RUNDBALSHUSET
"Hi! We're Erik & Laura Vidje.
Our self-build house just outside Umeå in northern Sweden is built with straw, wood, clay and recycled glass foundation to create a healthy home with minimal environmental impact.
Rundbalshuset? It means 'round bale house'! "
Rethink, Redesign, Reduce, Reuse, Recycle
We designed Rundbalshuset from scratch, allowing us the chance to plan exactly the home we wanted and which melts right into the landscape of our property. We've been able to combine traditional and innovative solutions to build a bespoke, comfortable and resilient home which is adapted to the local climate. Here in northern Sweden it can be -30C in the winter and snow covers the ground for months, but also over 30C in the summer with periods of dry weather.
We've implemented circular building principles so that the property gives us possibilities to be more self-sufficient both now and in the longer term.  We are building  with mostly local and sustainable resources and using other materials that can be reused or recycled, or which have already been discarded and would otherwise go to waste. Additionally, our plot of land will allow us to grow much of our own food to support ourselves, whilst enhancing local biological diversity.
Rundbalshuset has been designed with low energy use requirements and we've built in renewable energy sources as well as passive measures to reduce our dependence on the electricity grid.
We have been inspired by Policy for an Ecocycle adapted building, Anders Nyqvist; Cradle to Cradle Design Approach, William McDonough; as well as Byggekologi – Maria Block, Varis Bokalders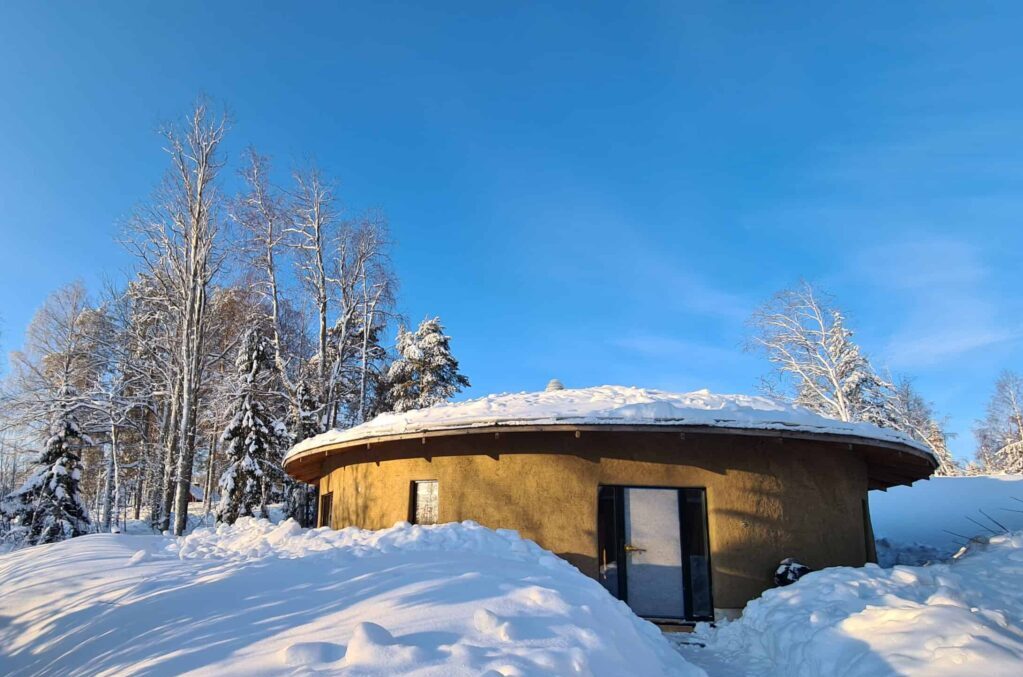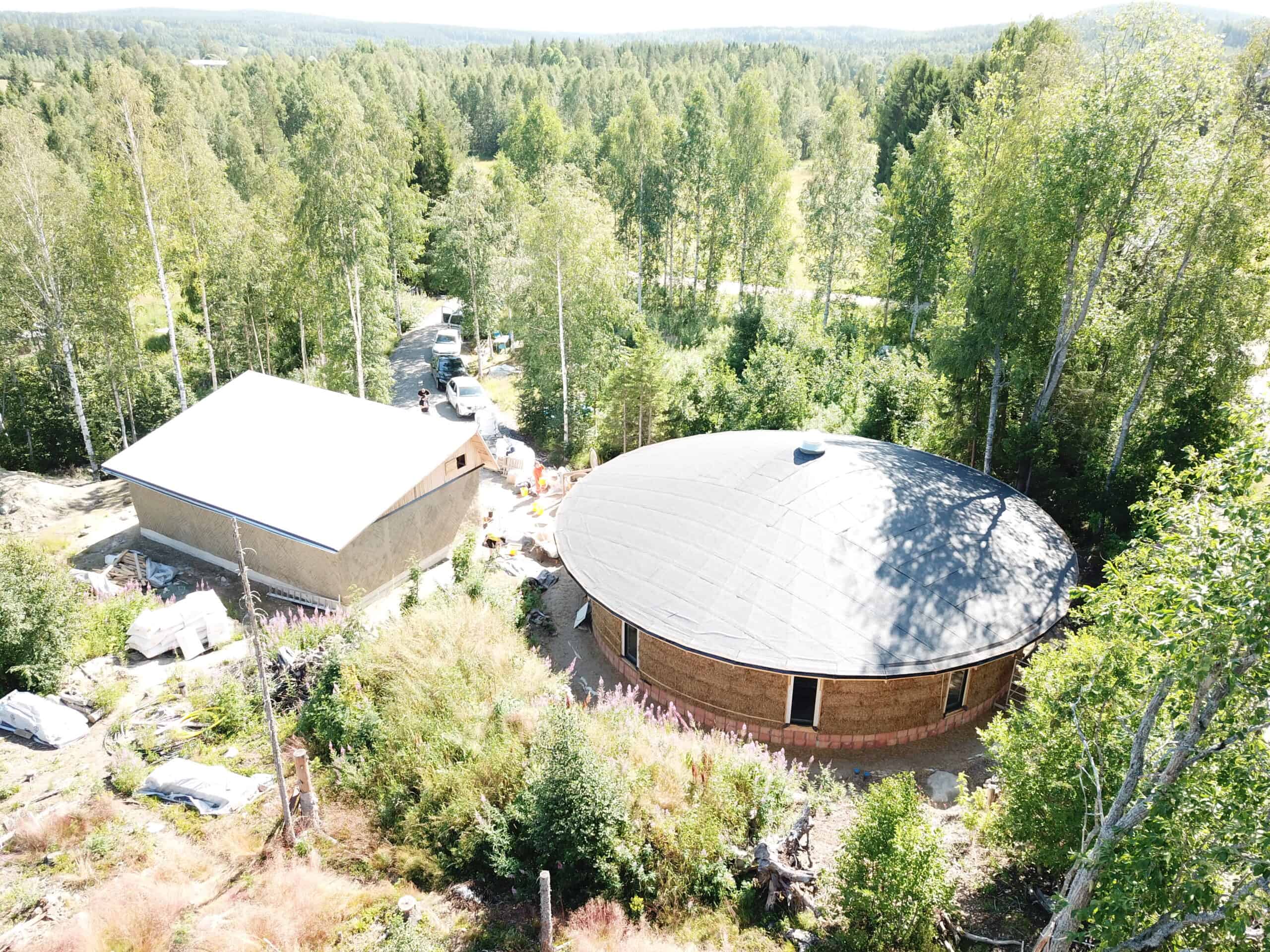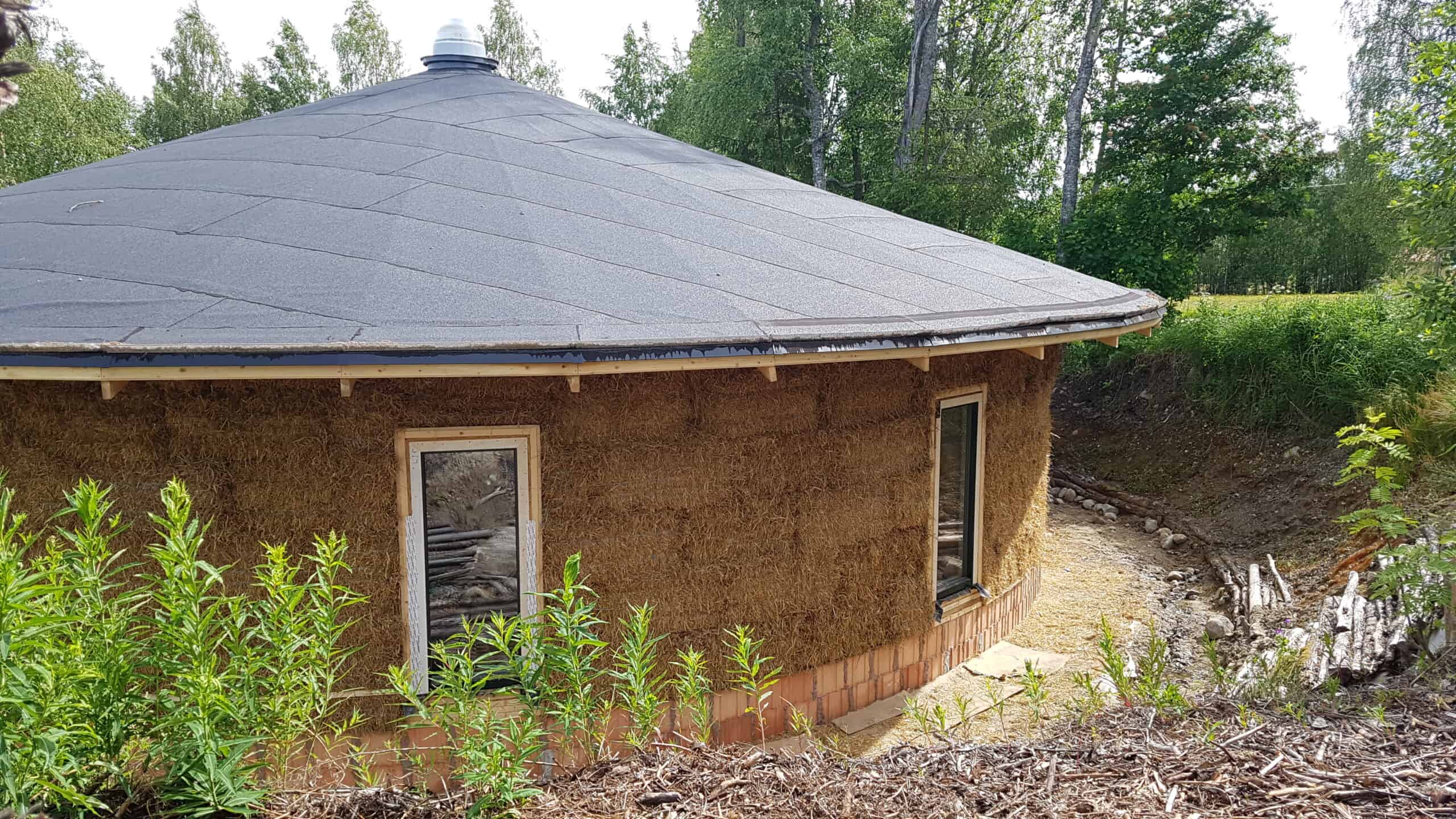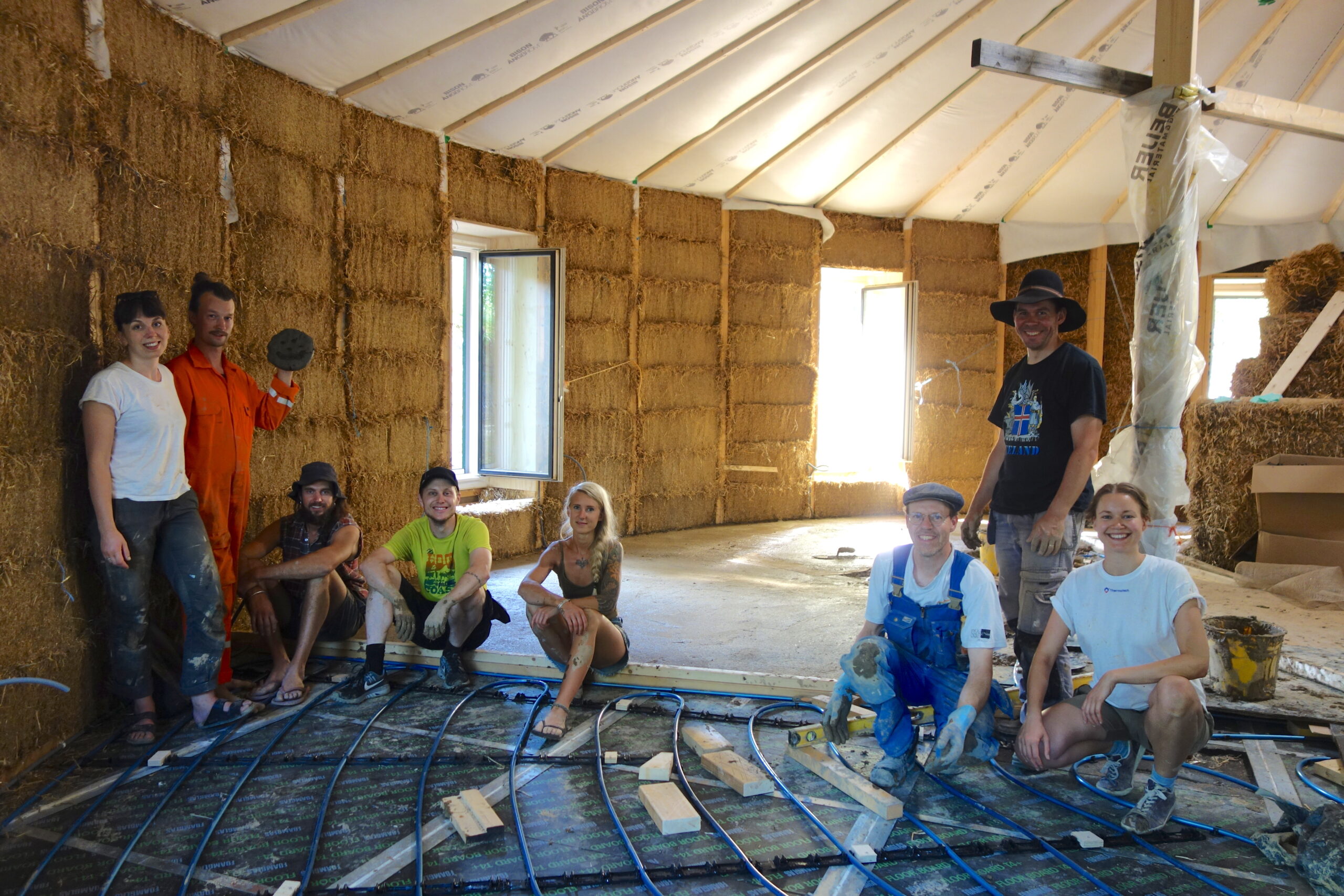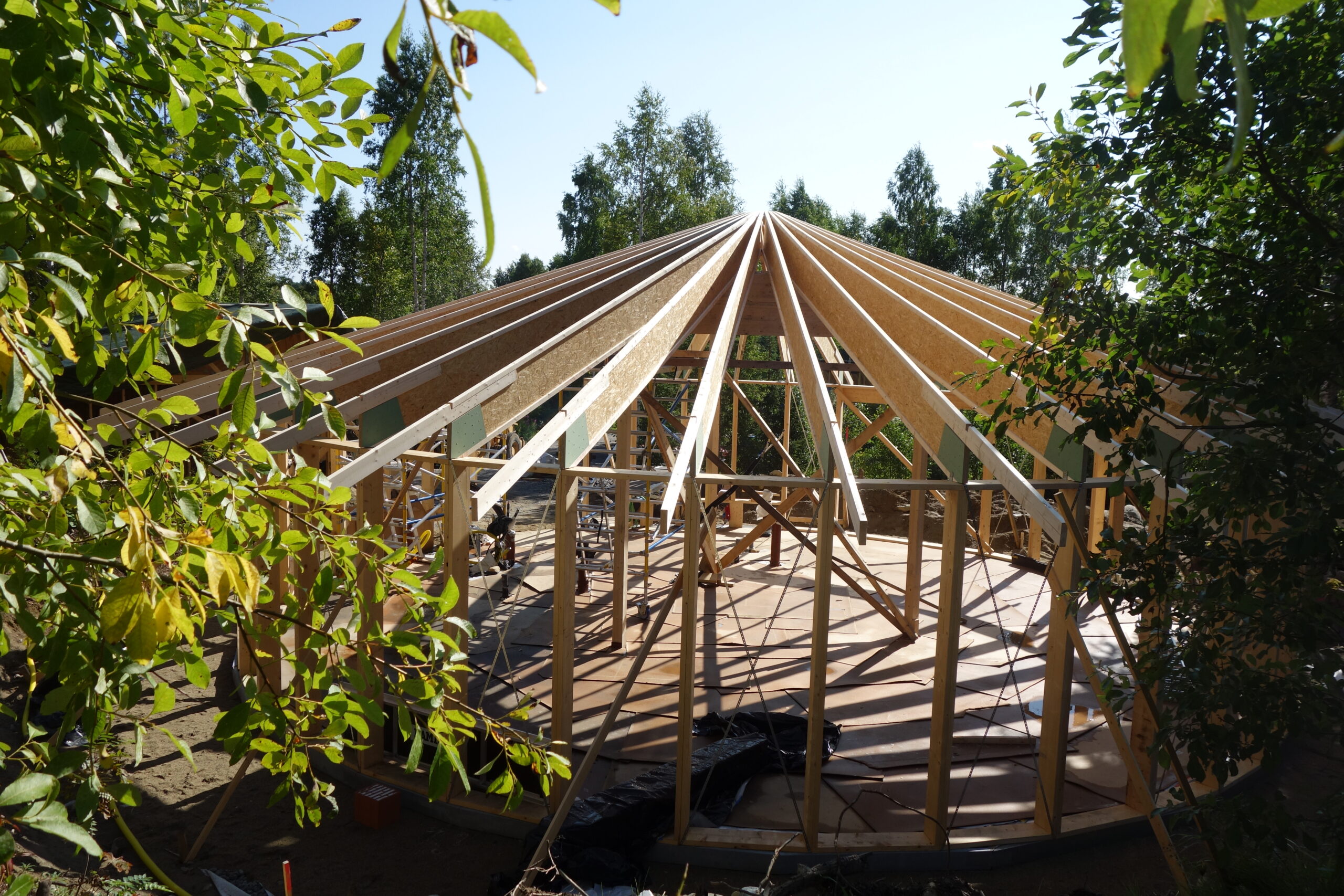 We are passionate about reducing our environmental impact, Laura works as a consultant advising on the implementation of circular economy principles, so we were determined to put theory into practice and build a bespoke home which will complement its surroundings while limiting its impact on the local ecology.
We started planning in 2014 and after we found land in the village of Kassjö, just outside the city of Umeå we started building Rundbalshuset in 2017.  We will be moving in during 2021, so it has been a long slow build which we have had to fit in around our full-time jobs. We have had professional help with the engineering design, groundworks, timber frame, roof and installation of services but for the most part we have built Rundbalshuset ourselves and are grateful for the ongoing help of family, friends and other volunteers - which have made this building process so much more fun!
The project consists of a number of buildings: the round house and a garage (which includes a guest suite), as well as a shed, earth cellar and (future) greenhouse. Some of the features of the design include:
Wooden building frames
Walls made from straw bales and clay
Solar energy installations
A bore hole for water
Passive air temperature control
We chose this design to make the most of readily available resources. There is no shortage of wood in this part of Sweden, the clay plaster is made with soil taken directly from the site and we can make the most of the sun during the long summer days here at 64 degrees north.  Water usage is designed to be low and rainwater will be harvested for use in the garden, limiting what will be drawn from the ground.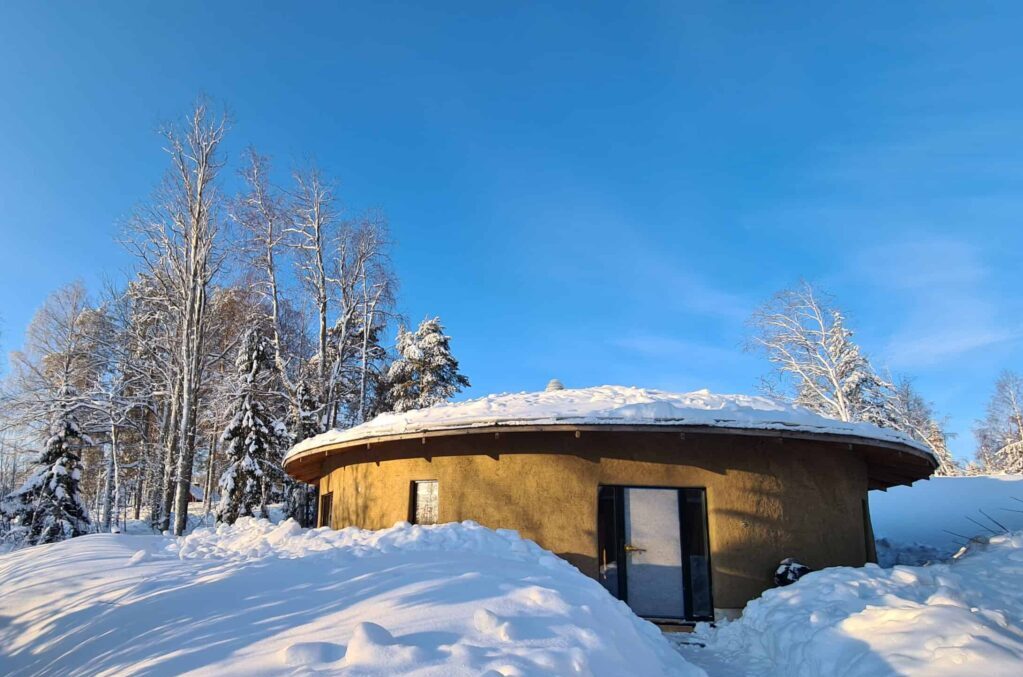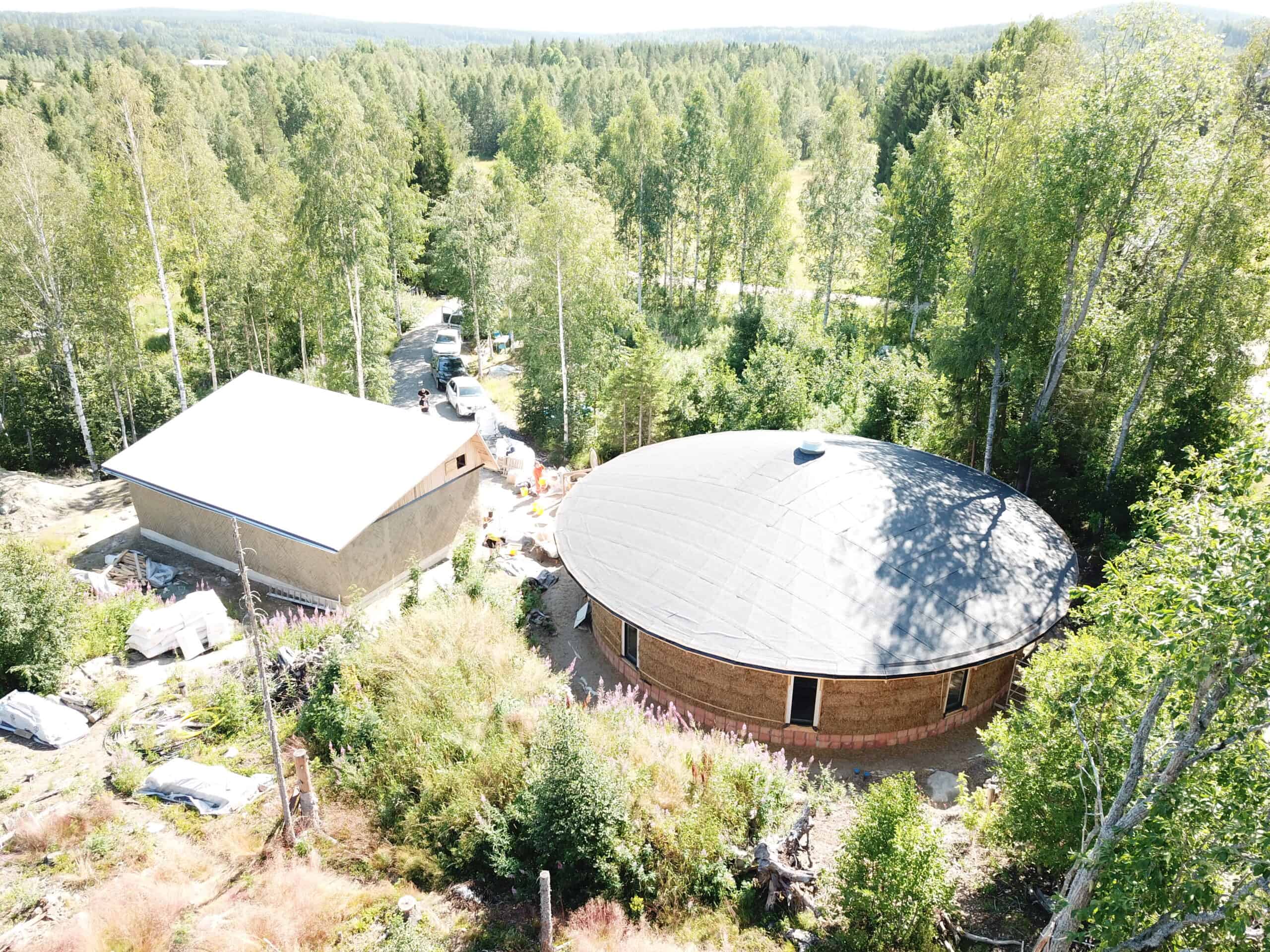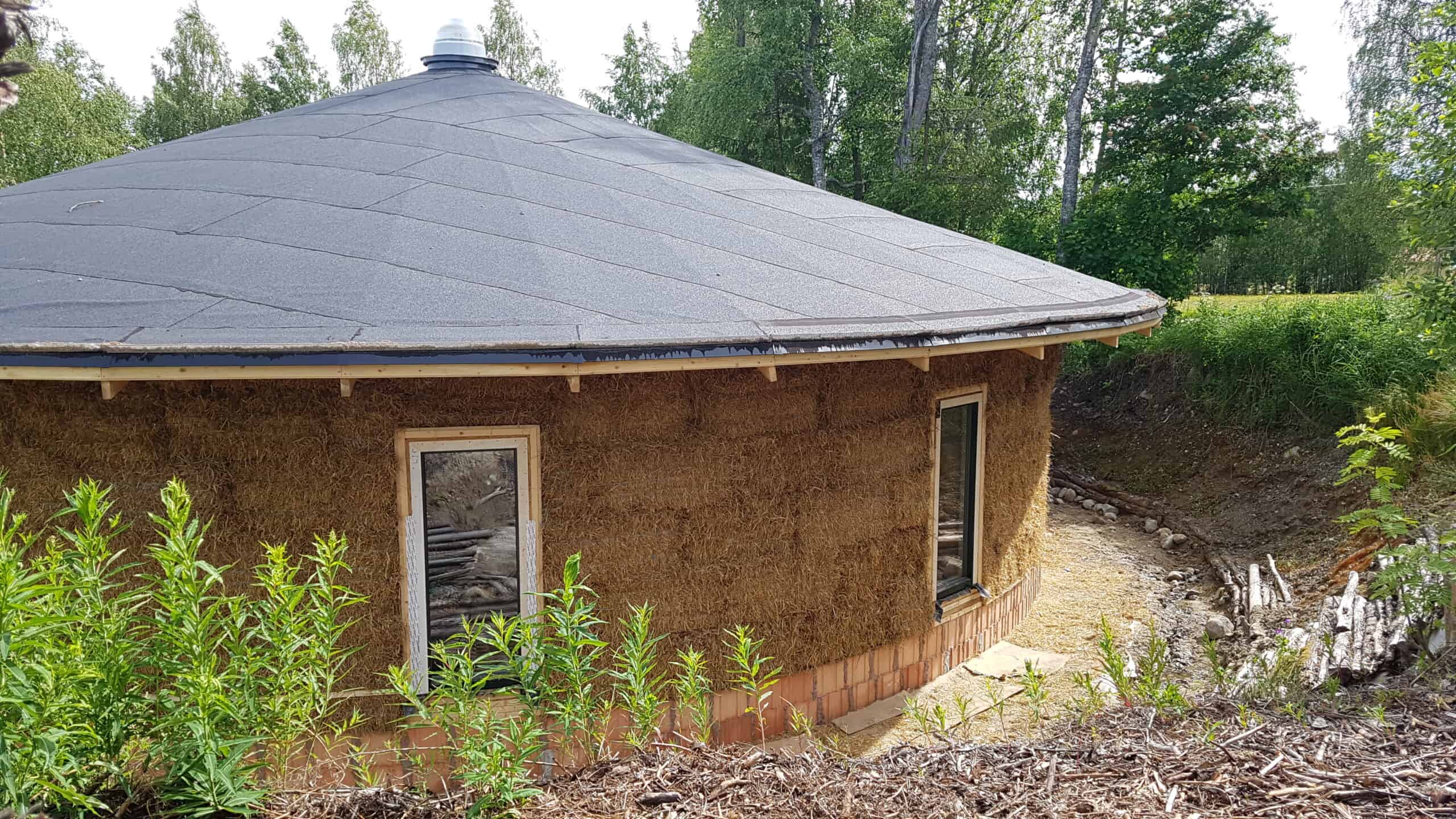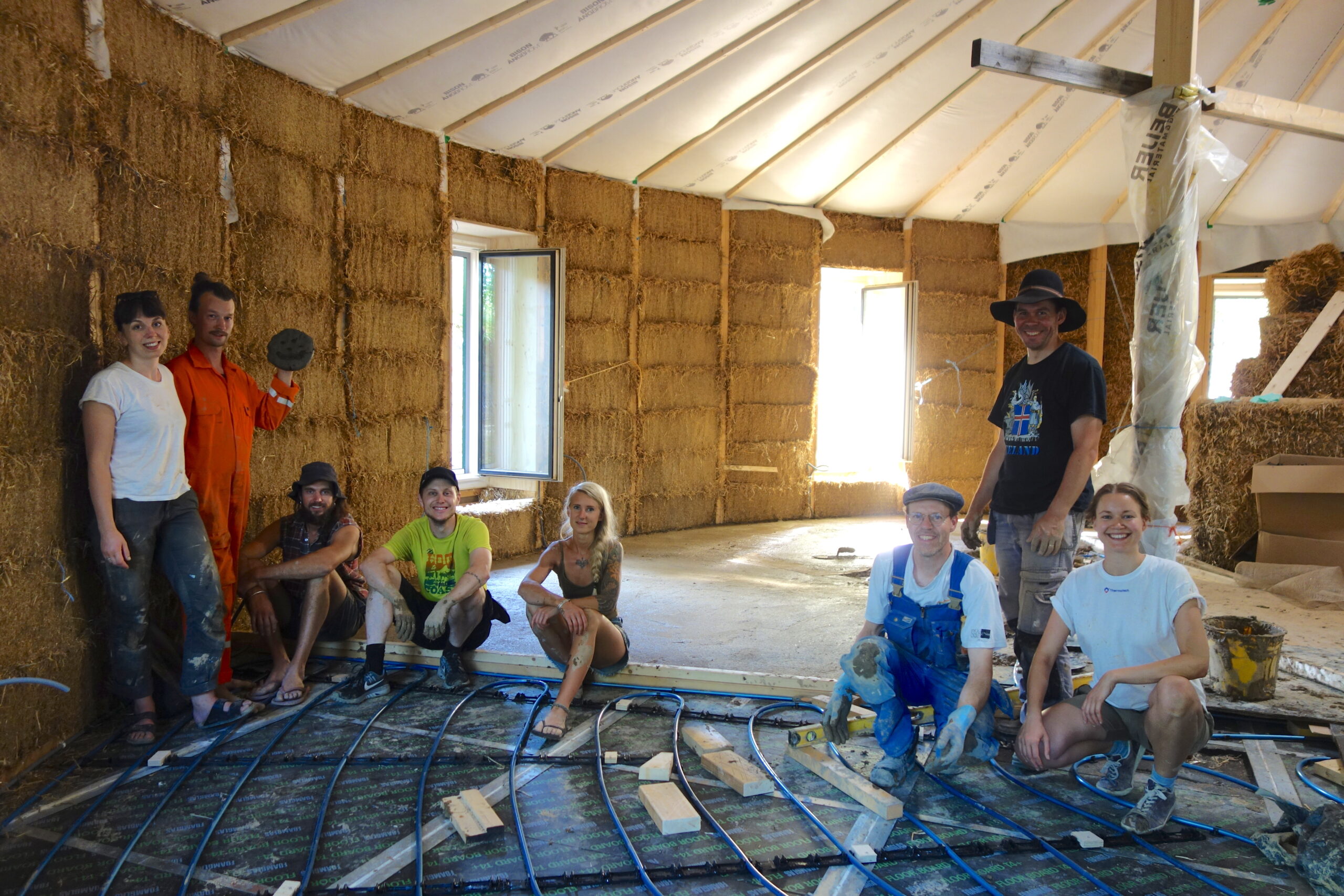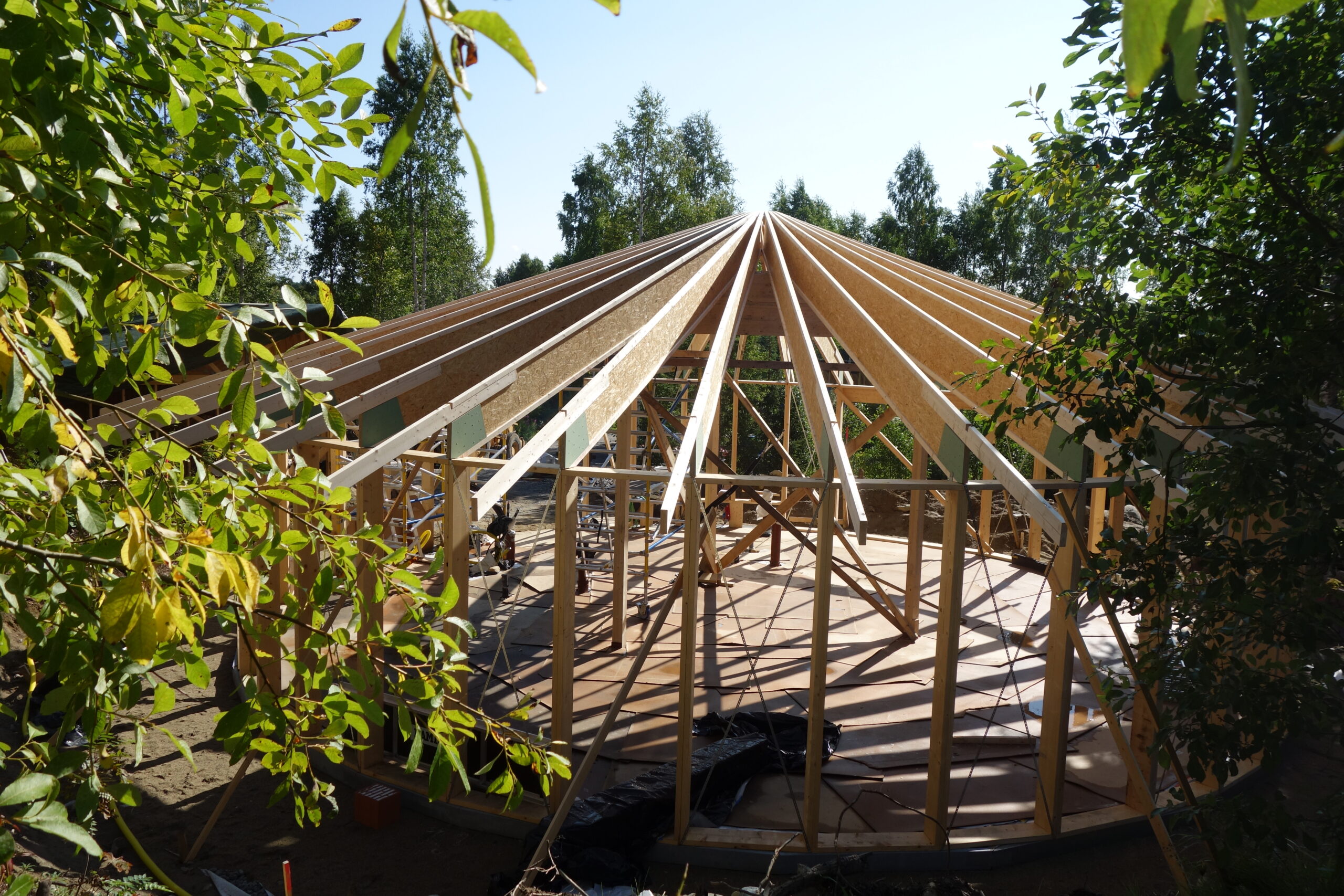 Not at the moment, no! Because of the pandemic we are not opening up for visits until restrictions have changed locally. We expect to move in and take a holiday (which we haven't had in 5 years), and then open up for study visits in the summer. You can sign up for our mailing list to be the first to get information on when there is a possibility to book study visits. Please follow us on Instagram or Facebook if you want more information on the building process, or check out our or digital training about the whole project.
Yes, we are planning to organise more courses later this summer, e.g. in clay plastering the facade of the garage and the house. Please let us know if you are interested in participating in a course, or if there are particular elements of the construction that you would like to know about by completing this survey.
We also plan to make more online lectures or courses so everyone can access the information and share in what we have learned.  The building process so far is detailed in our first online lecture. 
Yes, we have a lot of documentation and videos we filmed ourselves during these four years of building! We hope to inspire more people, so we also plan to make more online lectures or courses so everyone can access the information and share our experience.
Let us know what you want to know more about here in this survey. The building process so far is detailed in our first online lecture. 
Design

Construction
Materials and products
Mechanical, Electrical and more

"Straw bale construction lends itself well to an owner builder project. Some of the applications well suited for straw bale include: a cottage, office, garage, studio, and an art barn. You don't have to limit yourself to these smaller projects. Thousands of people have successfully built their own straw bale house."
Read more on https://www.strawbale.com/straw-bale-articles/why-straw-bale/
Google the famous Maison Feuilette, in France, which is one of the oldest strawbale houses in Europe. It was built in 1921 and people still live there to this day, 100 years later!  More than 80 years ahead of its time, it complies with the 2005 thermal regulations!
Would you like to learn more about Rundbalshuset?
Register now to hear from us when we are once again able to receive study visits or when we are running a building course at the site.